If you know anything about me, you know that I am a mermaid at heart. I talk a lot about going to the beach, what I have in my beach bag, what my favorite products are for summer and I show you amazing summer photos of the sun, sand and marinas.
It just only seems right that I would have a few mermaid things in my arsenal, right? Well, yes you're right. I normally just spend a lot of time looking at pictures of mermaids online and liking a bunch of Little Mermaid themed posts on Instagram and obsessing over them. Now though, thanks to my friend Diana's amazing birthday gift giving skills and one trip to a bookstore, I have an even bigger collection of mermaid things that I thought I would share with you today.
Of course, I took it to my favorite place, the beach, for a cute little photoshoot with all of my beautiful mermaid things. I took these photos a week after a huge noreaster shot through the area, but aside from some of the photos that are more inland, you would never instantly realize it if you didn't know any better. The beach looks beautiful regardless.
How adorable are these mermaid notebooks from
Book Culture
? I visited the bookstore late last year with some friends while wandering the city on a cold day. I feel so connected to this notebook for some reason. I know it sounds insane, but when you have a cute notebook that you feel like you can literally "confide" in when you write in it, you'll go places.
How DARLING is this mermaid blanket? I must be honest, I slightly cringed putting it on the rocks for the photos, but again, I felt like it was "one" with the environment. I definitely would even consider bringing this with me to the beach for when those winds pick up in the summer. You know it gets freezing even though its 75-80 degrees out.
I'm not sure where it's from because I got it as a gift, but
here
is something similar.
Aside from this being super adorable, it seems "tattoo-themed" to me and I just love it. I've never really been "inspired" to bring my coffee in a mug to work/on the train before because I always feel like I'm just using whatever mug my dad brings home from work with his company's logo on it. Listen, so grateful, but it's just. not. as. cute.
This one is from
Starbucks
and I just cannot get enough, now I just have to consistently use it.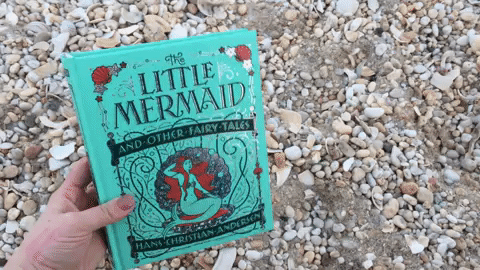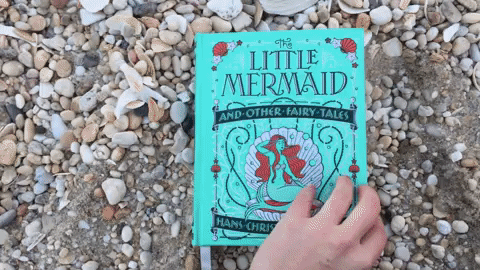 This is probably my favorite gift of all of them. How could it not be? How gorgeous is this cover and pages? Definitely the best version of The Little Mermaid I have ever seen.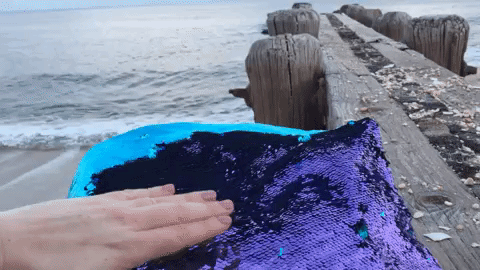 Last but certainly not least is this amazing pillowcase. I had actually mentioned to Diana that I loooooved this so I was surprised when her sister and her surprised me with it! As you can see, I have obviously not put an actual pillow in it because I haven't had a chance to buy one yet (haha). The sequins are so magical thoughhhhh.
Thanks for reading! What are your favorite mermaid things? You know I just can't get enough. Xo-Brit.