I always like to start my Sundays watching a Mr.Kate video. If you don't know who she is, I don't know what you're doing with your life. She's unapologetically herself and I can so beyond appreciate that. I also love that sometimes she makes things that I don't love, but she has taught me to appreciate why and be able to explain it. She is a huge inspiration to me and today she put out a video with David Bromstad about decorating around a self-made art piece.
I decided to somewhat take on the challenge of creating something somewhat zany, but creative myself. You know, Sunday fun day. Anyway! I have been calling this "Neon America" all day long. I just love the idea of being able to relax on a Sunday and make something. Not to mention that I was able to sit outside on my front porch, listen to music and just leisurely so whatever the hell I wanted.
So! With all of that said, check out the process through gifs and photos. Enjoy!
First I decided which materials I wanted to use. A lot of these things I got in the dollar spot at Target, they have the best crafting materials!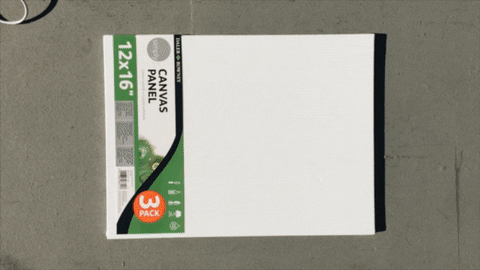 It was a last minute decision to use this paint that I have had for a really long time, but I thought it would be multidimensional and I ended up actually liking it.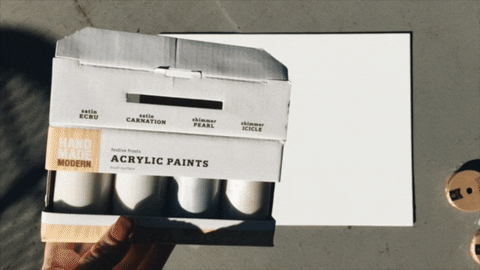 At this point, when I had all the materials figured out, it was time to plug in the glue gun. I ended up using about 4-5 glue sticks for the entire project because I glued absolutely everything.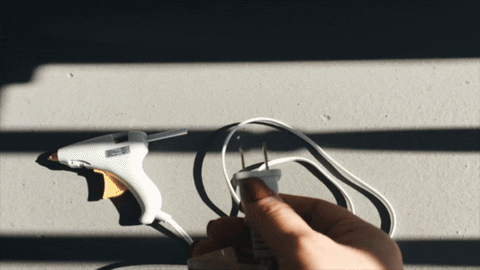 I only did one coat of the paint because I really only wanted a slight opalescent sheen, it worked out well.
At this point, I didn't even wait for the paint to dry. I just started glue gunning the pom poms onto the canvas. I started across in the same pattern as an American flag: six across, five across (and so on).
Here's how everything ended up looking at the end. I loved the uneven juxtaposition of the colors and the fact that the size and colors were not perfect. At this point, I also took a Hi-Chew break. ;)
Just, you know, showing you the huge mess I made on my front porch.
Here's the final project! What do you guys think? Like I said, I know it's a little insane, but it just made me so happy and I love getting creative. Even if it means going back to second grade. :)
Share your recreations with me on
Twitter
! What gets your inspired? Thanks for reading!